#SuzyPitti: Florence Menswear Underscores Green Issues
文章導讀
With inventive international designers, the Italian trade fair showed the importance of fashion industry initiatives
敬請期待中文版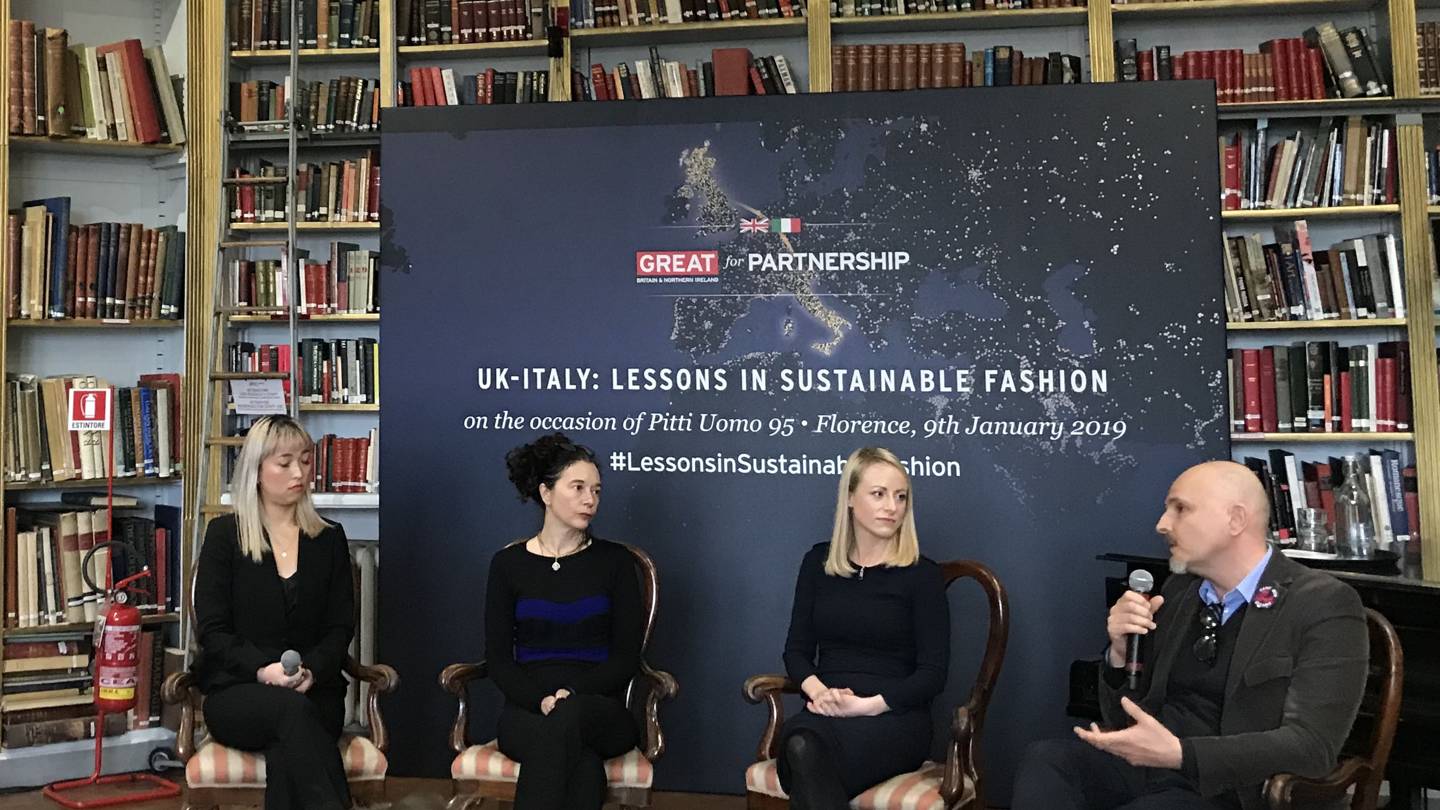 'UK – Italy: Lessons in Sustainable Fashion' round table took place during Pitti Immagine at The British Institute, Florence. Participants are (from left) Debra Guo, Environmental Sustainability Manager, Stella McCartney; moderator Orsola de Castro of Fashion Revolution; Jocelyn Wilkinson, Responsibility Programme Director, Burberry; and Giorgio Ravasio, Country Manager for Italy, Vivienne Westwood
Balancing on a pair of vertiginous Vivienne Westwood shoes and wearing a Westwood outfit in Burberry checks, British ambassador to Italy Jill Morris talked tough on fashion's need to be mindful of Planet Earth.
In a round table event during Pitti Immagine, the Florence menswear fair, the ambassador spoke strongly about fashion's darker side.
"We are all aware that the fashion industry is one of the primary polluters in the world, second only to oil. The UK has put clean growth at the centre of government priorities," she said to a group in the library of the British Institute of Florence, while representatives of companies from Burberry to Stella McCartney to Westwood discussed the topic of the moment, moderated by eco warrior, Orsola de Castro, the founder of Fashion Revolution.
Mindful by design
Sustainable fashion was the big subject in Florence among increasing numbers of designers – from the Loro Piana family's Sease (read: 'sea' and 'ease') brand; through Christopher Raeburn, newly appointed creative director of Timberland; to straight-from-the-sheep Ecol? sweaters, whose wool comes from the high mountains of Portugal.
Raffaello Napoleone, chief executive of non-profit industry organisation Pitti Immagine Srl, started thinking about the concept of mindful fashion 15 years ago, and has been talking about the structure and treatment of clothing ever since.
Now, what he calls 'a way to communicate', the concept has become a genuine subject of discussion and 100 per cent sustainability is moving towards becoming a reality.
"At the beginning it was too early to think about sustainability, but we have all helped to promote this," said the executive. "To do this kind of certification, if you read the rules, you have labels or even tickets to tell you that the product is respecting good working conditions."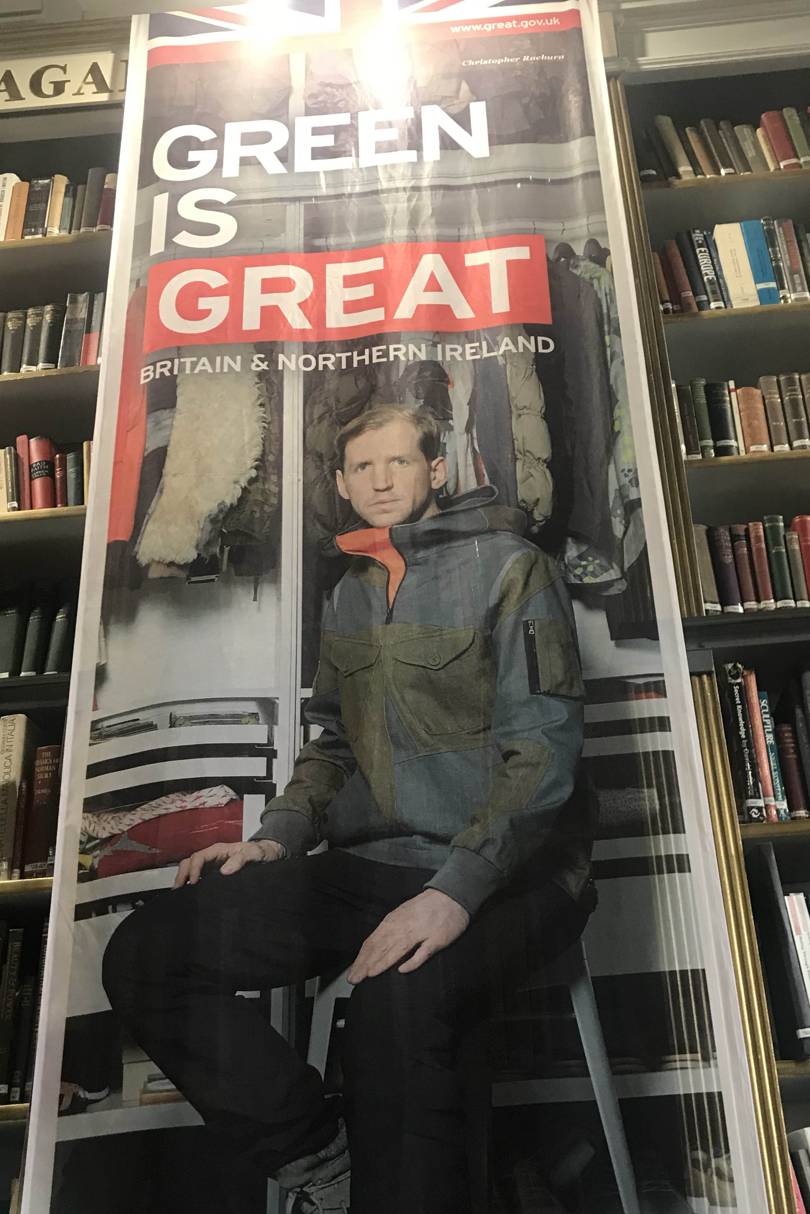 For consumers who care
All across the vast fair, there were fashion creators who not only care about sustainability. They use it as a selling point. It may be a long, hard journey to remove dangerous dyes from Indian rivers or do away with the many other polluting components of clothing creation. This awareness, however, is becoming a goal for suppliers, as well as customers.
Christopher Raeburn
Ten years ago, Christopher Raeburn launched his mindful and sustainable menswear company with just a handful of garments created from recycled military materials. Now his three 'R's – recycled, remade, reused – have become a mantra and a way of distinguishing the designer's different categories of creations.
Now he is also working with Timberland, and his elder brother Graeme shares responsibility for the construction of the clothes. Think of under-carpet woven materials reused to be made into coats and jackets. Raeburn has also taken on ethical issues, which included shutting down completely on all digital sales on Black Friday, the worldwide fashion-marketing bonanza.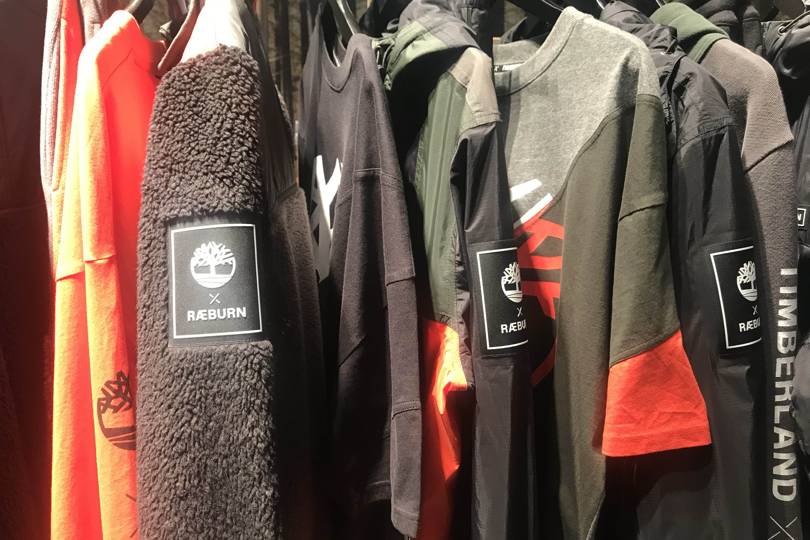 Christopher Raeburn's three 'R's – recycled, remade, reused – informs the world of sustainable fashion
"Everything we do is fully recycled, organic cotton. Done in the right way, it is amazing," said Raeburn of his stand at the Pitti fair. "There are incredible things remade, such as 'Typhoon' dry suits, which were originally diving suits, or recycled, indestructible fleece."
The designer said that, as the company was celebrating its tenth anniversary, he brought back some best-sellers, such as out-of-use parachutes. No object is so humble that it cannot be turned into clothing, hence the use of fibre fabric used on the floor of removal vans. With the two brothers working together, it seems that there is no stopping their imaginative remakes,
Yatay
Ah, those sneakers! The footwear of the moment was everywhere at the Pitti fair, but it was not always what it seemed. That's because a new brand, Yatay, has produced a sustainable alternative to what is on the market. Think: not only vegan but also sustainable, comfortable – and made in Italy.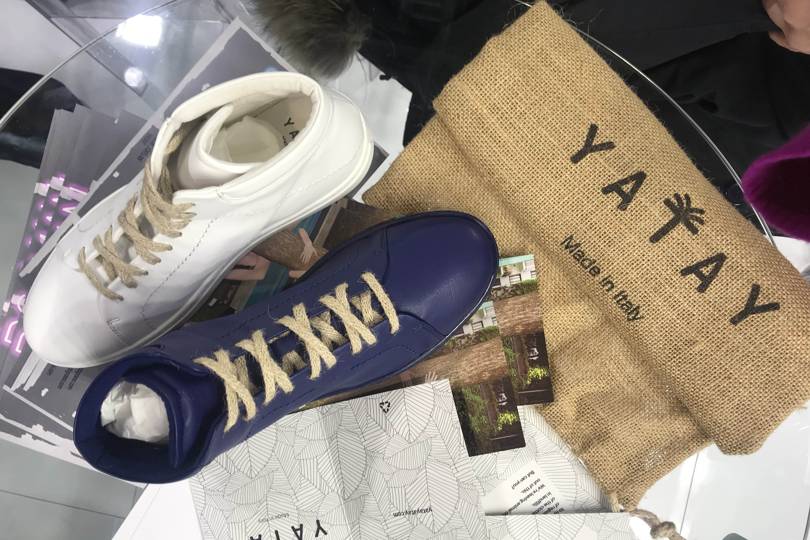 New Italian shoe brand Yatay relies on 50 years' experience in using alternatives to leather
CEO and founder Umberto de Marco explained that his family company had been producing alternatives to leather for over 50 years. Using his father's knowledge and experience of synthetic leather, Umberto has played with mixes of 50 per cent corn and 25 per cent recycled plastic to create sneakers that do not compromise on looks or performance, but at half the weight of real leather.
Ultimate bonus – when the shoes are dirty, you throw them in the washing machine and they come out like new.
Why the name Yatay? It describes a high-rise palm tree, hence the logo. And working with One Tree Planted, a non-profit company, the shoemaker is planting a tree for every pair of footwear sold.
Sease
From the water to the mountains, Sease creates modern hybrid sportswear whose fabrics can be natural fibres or mixes of classic and futuristic. The story from brothers Franco and Giacomo Lora Piana was summed up by inspiring, but contrasting, pictures of the outdoors – mountainous countryside in Italy and drones.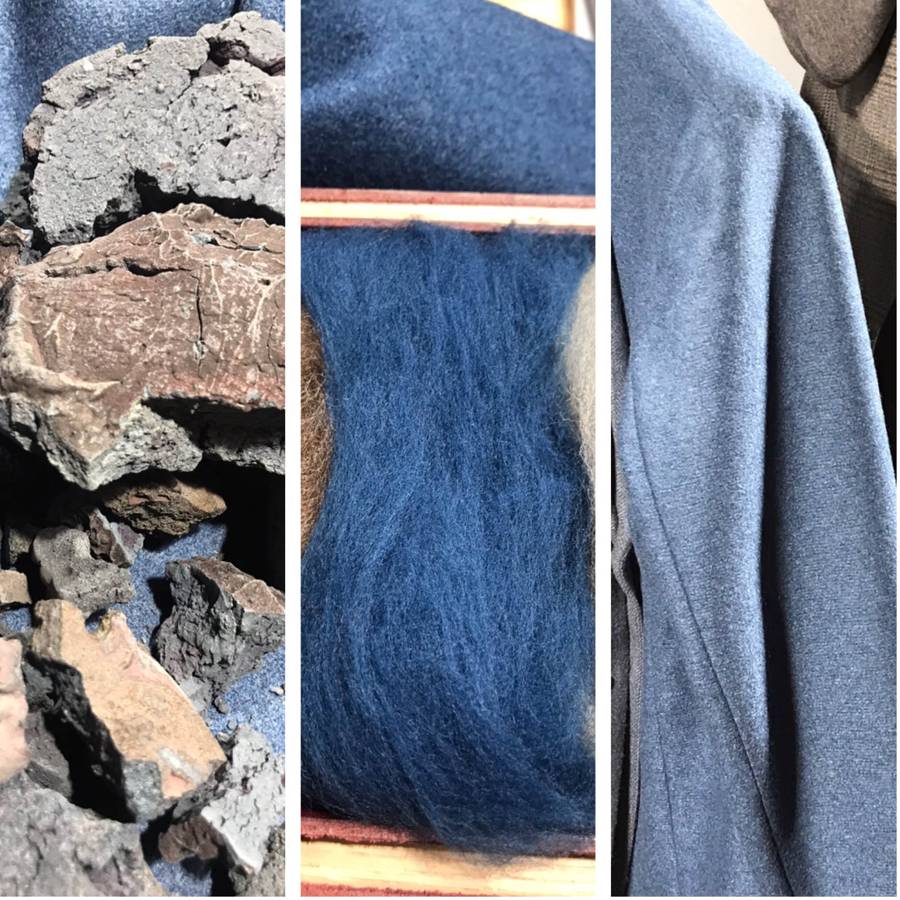 Sease uses natural fibres, but also combines classic and futuristic ones in its sportswear
There is something appealingly modern, even futuristic, about mixing high mountains and high tech. Sease has made the love and care of nature its starting point, and that has made it a brand for today.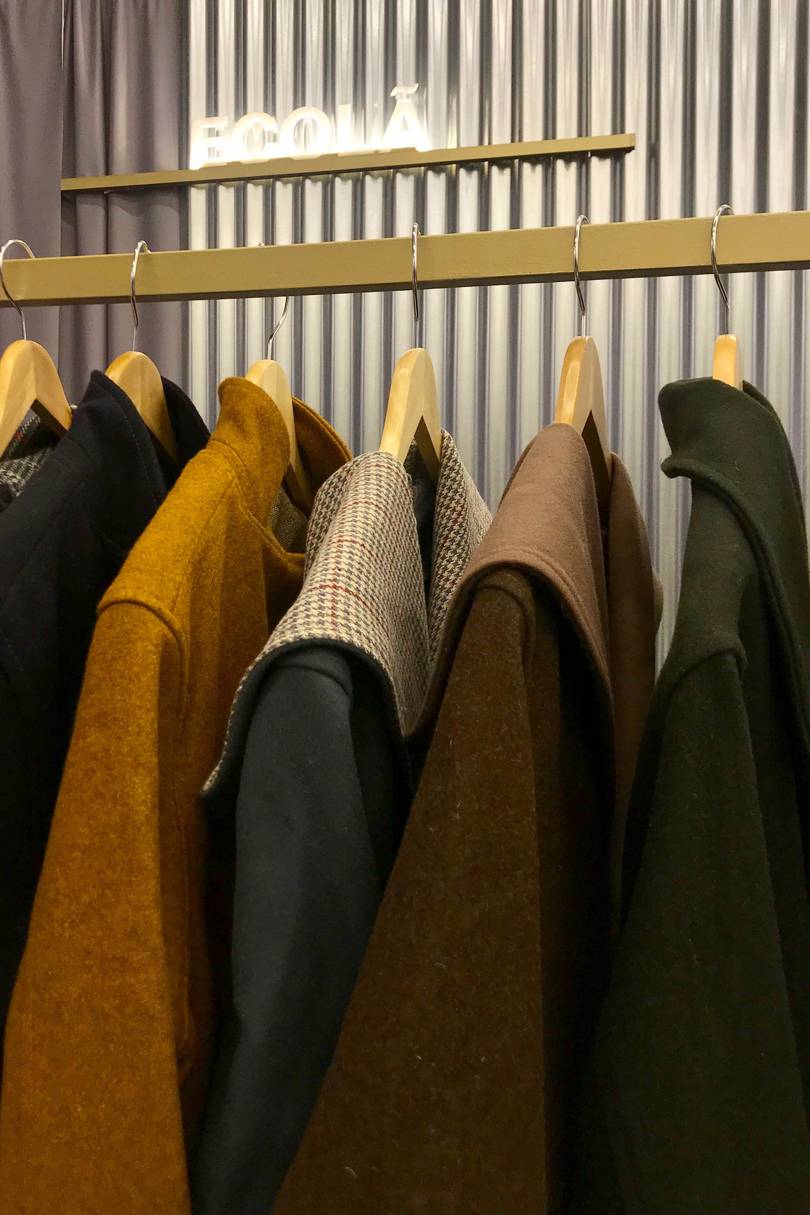 Ecol? uses naturally waterproof wool from high in Portugal's mountains
Ecol?
The third generation of wool makers and the oldest wool producer in Portugal – that is the story behind Ecol?, which was part of a display of mostly outerwear at the Pitti menswear show.
The name 'Ecol?' comes from the Portuguese for 'ecological', but perhaps the most impressive thing about the sweaters is that the raw material is a waterproof wool used by shepherds in the mountains since the Middle Ages.
轉載聲明
本內容系VOGUE時尚網原創或經官方授權編譯轉載,嚴禁以任何形式或方法轉載或使用,違者追究法律責任。
將本文分享到
你可能還會喜歡
更多相關網站內容